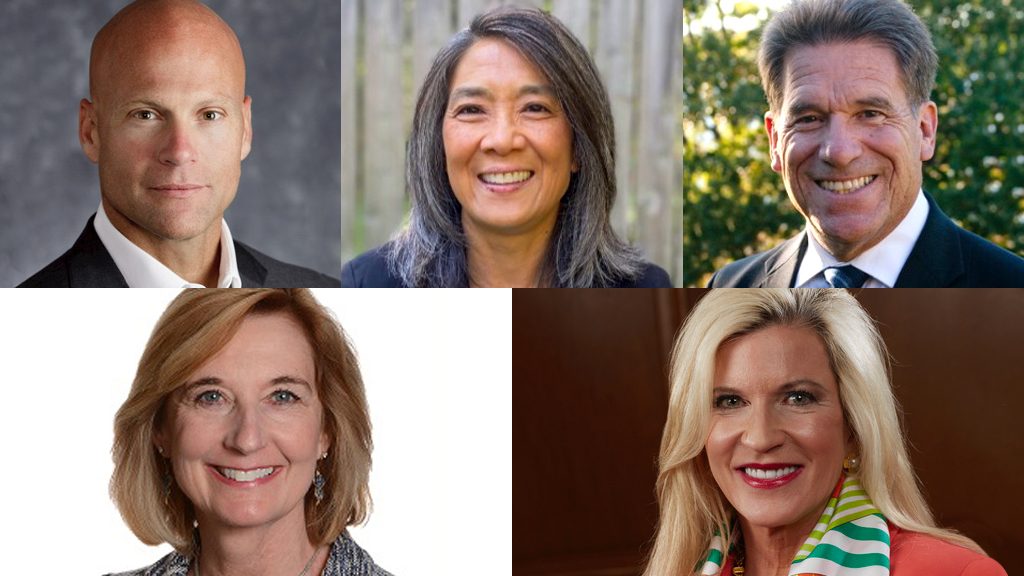 Saint Paul, MN (November 30, 2022) — Twin Cities PBS (TPT) announces the election of three new Board of Trustee members: Scott Dillon, Laura Liu, and Donald "Mark" Ritchie. Their service begins January 1, 2023. 
Dillon is a C-suite executive with a rare digital native background combined with deep operational and advisory leadership experience. He previously served on the TPT Board of Trustees, including as Chair from 2019-2020, and was instrumental in the search for TPT's new President/CEO. Dillon has held the position of CEO at start-up Gimbal, principal with EY, and CTO for Wells Fargo, among other notable roles. He holds a BS in Banking from the University of Minnesota. 
Liu recently retired as the COO of College Possible. She previously worked as an executive with Capella Education Company and spent 18 years with Northwest Airlines, where she was the Senior Vice President of the International Division. She has a BS, MS, and MBA from Cornell University and currently sits on the board of Collective Measures and is Chair of the Board of Regions Hospital.   
Ritchie is a former Minnesota Secretary of State. Ritchie was elected the 21st Minnesota Secretary of State on November 7, 2006. He was re-elected in 2010. He co-chairs the Minnesota USA Expo Bid Committee, serves as the Civilian Aide to the Secretary of the Army for Minnesota, and recently retired as President of Global Minnesota. He graduated from Iowa State University and from the Humphrey School of Public Affairs at the University of Minnesota. He and his wife, Nancy Gaschott, have lived in Minnesota since 1980. 
TPT also announces the election of Donna Zimmerman as the new Chair and Martha "Muffy" MacMillan as the new Vice Chair for its Board of Trustees.  
"As TPT maintains its commitment to meeting the needs of its community, it will be finding ways to amplify the voices of our community and make the stories we tell more accessible to all community members. I am honored to be elected to help guide TPT during this exciting time of innovation," says Zimmerman. 
Zimmerman, a trustee since 2017, will succeed Rob Sit, whose term comes to close at the end of December. Zimmerman recently retired as Senior Vice President of Government and Community Relations at Health Partners. She is currently the past Board Chair for the Animal Humane Society and has previously served on the boards of the Minnesota Council of Health Plans, Citizen's League, Canvas Health, St. Paul Conservatory of Music, Regions Hospital, Park Nicollet Foundations, and March of Dimes, including service on the National Volunteer Leadership Council. Zimmerman has been recognized by the March of Dimes, the Women's Health Leadership TRUST, and the Minneapolis/St. Paul Business Journal. She received her B.S. in Nursing from St. Olaf College and Master of Public Health from the University of Minnesota. 
MacMillan joined the TPT Board in 2017. She has served as Director on the Board of Cargill Inc. and the Cargill Foundation and serves as a Waycrosse, Inc. Director. She currently serves as a Director on the Ellis Island Honors Society, The Economic Club of Minnesota, The Walker Art Center, Alight, and Opportunity International. She has served on many international, national, and local boards, including American Federation of Arts New York (immediate past Chairman), Global Minnesota (immediate past Chairman), past chair of Abbott Northwestern Hospital Foundation, and Chairing the Board of Opportunity International Colombia. MacMillan was recipient of the Ellis Island Medal of Honor, the Pioneer Award from The Women's Entrepreneurship Day Organization at the United Nations, and the Outstanding Individual Philanthropist honor from the Minnesota Chapter of the Association of Fundraising Professionals.  
"The strategic plan released in January 2022 honors our legacy as a trusted local and regional public media service and charts a future in which TPT is one of the most innovative public media organizations in the country," states Sylvia Strobel, TPT's President and CEO, "Our new trustees and board leadership bring the perspectives and skills necessary for us to achieve this vision." 
### 
About Twin Cities PBS  
Twin Cities PBS (TPT)'s mission is to enrich lives and strengthen our community through the power of media. Established 64 years ago, TPT now operates as a public service media organization that harnesses a range of media tools to serve citizens in new ways — with multiple broadcast channels, online teaching resources, educational outreach and community engagement activities reaching more than 2 million people each month. Over its history, TPT has been recognized for its innovation and creativity with numerous awards, including Peabody awards and national and regional Emmy® Awards. Find more information at tpt.org. 
© Twin Cities Public Television - 2022. All rights reserved.
Read Next