By Kelsey Derby
In honor of April being National Poetry month and the premiere of Ken Burns' Hemingway, we wanted to pull together some literary favorites on TPT Passport. Books have inspired film in many ways from the stories they tell, to the literary giants behind them.
This month, we celebrate writers and all the ways they've shaped our lives.
---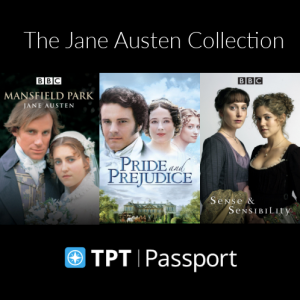 Stream Your Favorite Shows Now
Don't know what Passport is? It's our online member benefit that allows access to thousands of TPT shows right at your fingertips. All it requires is a $5+ monthly donation and a computer, a smart TV, a tablet, or wherever else you watch your programming! Download the
PBS app
for easy viewing.
---
Ken Burns and Lynn Novick explore the life and work of the legendary writer and his enduring influence on literature and culture in this three-part, six-hour series.
---
Jane Austen Picks
Jane Austen, the beloved English novelist who came to popularity at the end of the 18th century has inspired hundreds of adaptations of her beloved works. TPT Passport is proud to present the BBC versions of Sense & Sensibility, Mansfield Park and Pride & Prejudice. Get swept away in these timeless stories of love, lust, betrayal and everything in between.
---
Masterpiece Theatre
Did you know that throughout its history, Masterpiece has showcased adaptations of countless classic novels including Little Women, and Les Misérables. More than half of Masterpiece's programming is based on literary adaptation. Most recently we've added All Creatures Great and Small and Downton Abbey, both based on book series.
Watch All Creatures Great and Small Now
---
American Masters
American Masters is an ongoing series of award-winning primetime specials examining the lives, works, and creative processes of our most outstanding cultural artists.
Recently the show has featured:

Flannery
Explore the life of Flannery O'Connor whose provocative fiction was unlike anything published before. Featuring never-before-seen archival footage, newly discovered journals and interviews with Mary Karr, Tommy Lee Jones, Hilton Als and more.

N. Scott Momaday: Words from a Bear
Delve into the enigmatic life and mind of the Pulitzer Prize-winning author and poet N. Scott Momaday, best known for "House Made of Dawn" and a formative voice of the Native American Renaissance in art and literature.

Words of Ursula K. Le Guin
Explore the remarkable life and legacy of late feminist author Ursula K. Le Guin whose groundbreaking work, including "The Left Hand of Darkness," transformed American literature by bringing science fiction into the literary mainstream.
---

Poetry in America
The 12-part series Poetry in America draws students of all ages into conversations about poetry. Hosted by Harvard University professor Elisa New, each half-hour episode highlights the work of one distinguished poet  with a reading by an individual well known for accomplishments outside the humanities, as well as a chorus of others. The fast-moving, beautifully shot series offers viewers a fully immersive experience in hearing, reading, and interpreting a single American poem.
---
We hope you found something new to watch! And remember, you can access TPT Passport online, or through the PBS App.

© Twin Cities Public Television - 2021. All rights reserved.
Read Next