Stay at home orders due to the ongoing Coronavirus pandemic are creating some truly innovative virtual opportunities for the entire family to dig into some of America's most beloved children's books! You can join a free statewide book club, hear stories read by Michelle Obama, and even listen to stories read from space!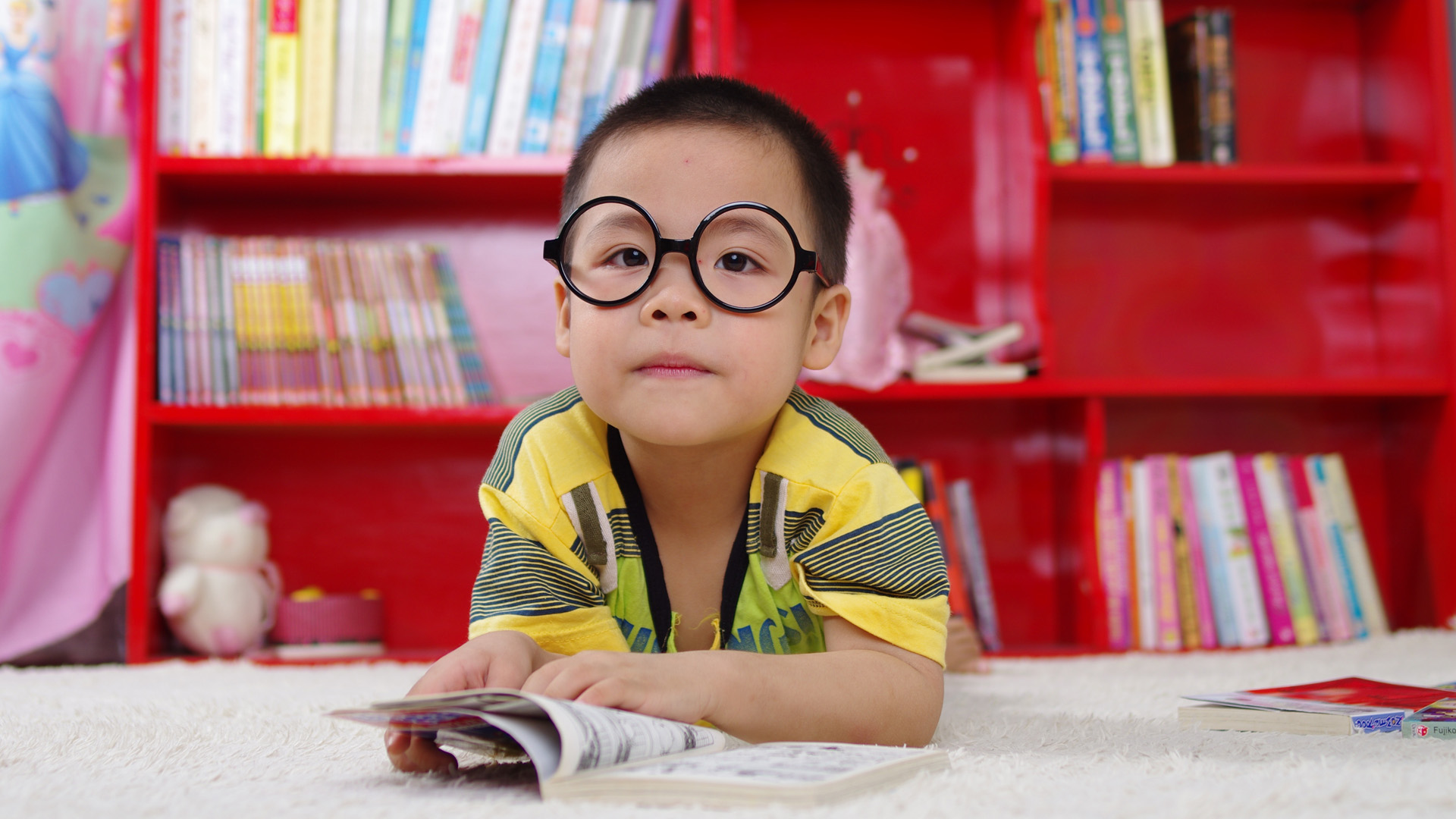 More time at home means more time for great stories! Here are 6 ways to bring your family story-time to a whole new level.
---
"One Book | One Minnesota"
Minnesota author Kate DiCamillo's book, "Because of Winn-Dixie," is the first selection in the new statewide book club "One Book | One Minnesota."
Kate DiCamillo is thrilled that this story is bringing Minnesotans together during this time of distance and uncertainty. She shares, "This book is so much about connection and community and hope and sadness, that I think it speaks to people now because of that- whether you're an adult or kid."
DiCamillo chatted with TPT's Almanac host Cathy Wurzer about the book's Minnesota roots, why children's literature is great to read (especially now), and the adaption of one of her novels into an opera by the Minnesota Opera.
Debra Walsh, an educator at Minneapolis Public Schools shared:
"I always love seeing Kate DiCamillo on Almanac. I'm an educator with Minneapolis Public Schools. When Covid-19 closed schools in March and we were told to gather materials to teach students through distance learning, the first books I packed up to bring home were her books. Kate's books speak to all ages about real life experiences with such grace and eloquence. She is a gem!"
DiCamillo thinks that children's literature is great for all ages, and encourages families to take a day and read this beloved classic together. Adults are facing lots of stress and distractions during this time, and children's literature can be a great way for adults to get the benefits of reading a great story without too much time and effort.
Read "Because of Winn-Dixie," and other great books for free online by joining One Book | One Minnesota. And keep your eye out for book talks with Kate DiCamillo in May!
---
Mondays With Michelle Obama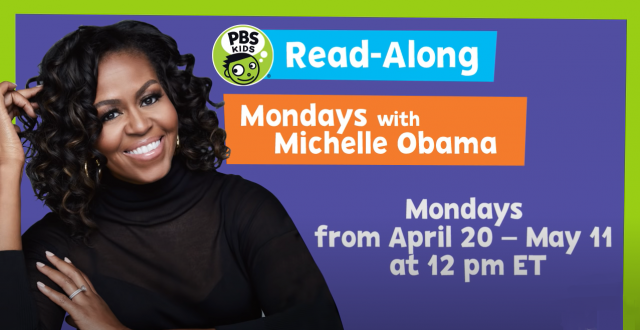 Join former First Lady Michelle Obama for a very special story time featuring some of the most beloved children's picture books, including "Miss Maple's Seeds," and "The Very Hungry Caterpillar."
"Mondays with Michelle Obama" is livestreamed on PBS KIDS' Facebook page and YouTube channel.
May 4, 12 noon ET: MISS MAPLE'S SEEDS Story and pictures by Eliza Wheeler
May 11, 12 noon ET: THE VERY HUNGRY CATERPILLAR By Eric Carle
Watch previous story-times:
Watch THE GRUFFALO Written by Julia Donaldson and illustrated by Axel Scheffler below:
THERE'S A DRAGON IN YOUR BOOK Written by Tom Fletcher and illustrated by Greg Abbott
Michelle Obama says:
"As a little kid, I loved to read aloud. And when I became a parent, I found such joy in sharing the magic of storytelling with my own children—and then later, as First Lady, with kids everywhere. At this time when so many families are under so much stress, I'm excited to give kids a chance to practice their reading and hear some wonderful stories (and to give parents and caretakers a much-needed break)."
"Mondays with Michelle Obama," Story-Times are presented by Penguin Random House and PBS KIDS.
---
Story Time from Space
Children's book favorites are sent to the International Space Station, and astronauts videotape themselves reading these books to the children of Earth. How cool is this? You cannot miss this one-of-a-kind story-time experience from Story Time from Space!
In addition to reading stories, the astronauts conduct science experiments for the children of Earth as the world rotates below!
Rita Karl, Managing Director of STEM Media and Education at TPT is excited to share this news about a new PBS Kids show:
"We are collaborators through the ISSNL Space Station Explorers program and are producing a pilot for PBS Kids called Blast Off! that includes a story read from space along with an animated story and hands on activities with real kids."
Watch "The Wizard Who Saved the World" written by Jeffrey Bennett, read by astronaut Koichi Wakataread.
Story Time from Space is a project of the Global Space Education Foundation, a 501(c)(3) nonprofit education foundation.
---
Goodnight With Dolly
Country music superstar, Dolly Parton, reads select Imagination Library books during "Goodnight with Dolly," a weekly story time series for children and families. The books are thoughtfully chosen for their appropriate content for this uncertain moment in time.
Watch her fist video in the series, where Dolly reads kids book favorite, "The Little Engine That Could."
About Dolly Parton's Imagination Library
Dolly Parton's Imagination Library is a book gifting program that mails free, high-quality books to children from birth until they begin school, no matter their family's income.
---
LeVar Burton Reads
Parents and kids rejoiced when LeVar Burton, longtime host of the beloved PBS children's reading show, Reading Rainbow, and Star Trek legend, joined other stars in the recent live readings craze.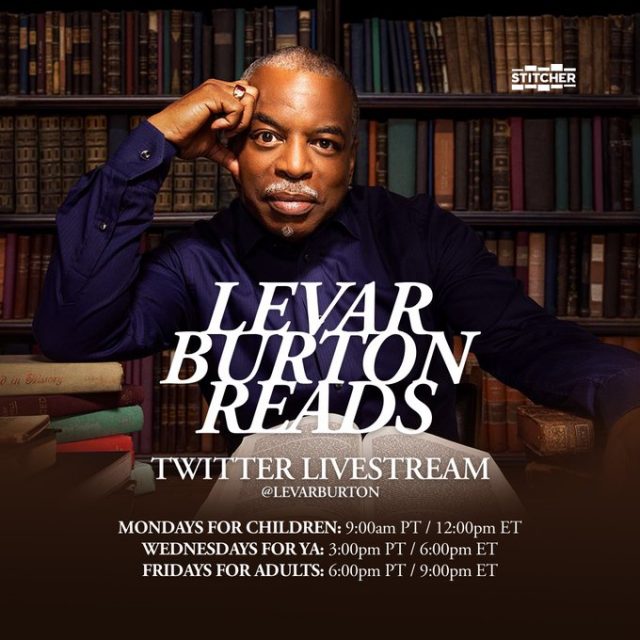 Source: Twitter
Burton hosts his Twitter livestream of "LeVar Burton Reads" three times a week:
Mondays at noon (Eastern) for children;
on Wednesdays at 6 p.m. (for young adults);
and on Fridays at 9 p.m. for grown-ups!
Burton has become an expert at reading aloud in his decades of working to foster a love for reading in children. Tune in to listen to a great selection of short fiction that is handpicked and read by Burton.
---
Julie's Library

Source- Facebook
We know Julie Andrews for her iconic roles in Mary Poppins and The Sound of Music movies. But did you know that she is also a children's book author? Andrews and her daughter, children's author and educator Emma Walton Hamilton, have penned more than 30 children's books! Now, they are sharing their passion for children's literature and a lifelong love of reading in the new podcast: "Julie's Library: Story Time with Julie Andrews."
You're invited into their collection of favorite children's books to listen to these stories as they come to life with music, sounds, special guests and activities. Their hope is that this show will lively conversations and inspire a love of reading.
Produced by American Public Media.
---
We'd love to hear from you!
What are your top children's books of all time? Let us know what they are and why you like them. We will use your entries to create a summer reading list!
© Twin Cities Public Television - 2020. All rights reserved.
Read Next