By Kelsey Derby
Did you hear? John Denver: Country Roads – Live in England is hitting TPT airwaves beginning November 30 at 8:30pm on TPT 2.
John Denver is a beloved singer-songwriter who actually spent a decent amount of time in Minnesota as his first wife, Annie Martell, grew up in St. Peter (you might recall his hit song written for her, "Annie's Song").
In this new special, you'll get the chance to join one of the best-loved recording artists of the 20th century at a concert filmed in 1986 in the UK. The concert showcases Denver's fine voice and easygoing manner on fan favorites including "Sunshine on My Shoulders" and "Rocky Mountain High."
We took time to sit down with Minnesota musician and former TPT employee, David Heath, who had a fantastic brush with fame one night his senior year of college. Read the story of incredible chance that lead to a memorable moment with none other than John Denver himself. Heath says of Denver, "He was so gracious and so giving. He was not selfish at all. He gave me all kinds of support."
---
Meeting John Denver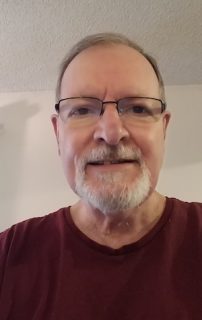 Here's the deal. I was in college. My senior year of college. And I was doing a lot of gigs in mostly bars (there were a few coffee houses along the way, they just didn't pay as well).
I was sitting in my apartment in Ohio, which is where I went to college. The phone rang and it was a friend of mine from high school. He was talking about this guy who was coming in to sing at the coffeehouse tonight and that my friend had lost the warm-up act because the artist had gotten sick or something.
He said, "Would you be available to come sing and do like a half hour warm up for this guy?" and I said, "Well, sure."
I asked, "What's his name?" and my friend said, "I don't know, never heard of him before."
So, I get in the car and I drive about 80 miles to another college campus where I found the coffeehouse, the Frumious Bandersnatch, named after a character from the Lewis Carrol poem, "Jabberwocky." After some searching, I was directed by some students to this place and there was my friend.
We talked and I said, "Well, who is this guy? Is it your typical sort of hippie guy?"
He says, "He's a good singer and he plays pretty good guitar and I said okay, "What's his name?" and he goes, "You know, I don't know, it's a really long German word."
So I went to get some coffee and get out my guitar and get all set to go on stage. I have yet to see the person I'm doing the warm-up for. About a half hour before it was time for me to go on, this guy shows up in these bold wire frame glasses, fairly long hair and he's fairly short – shorter than me and I'm not really tall so that means he's really short.
He walked into the green room and said, "Hey, how are ya?" and I said, "Ooh I'm fine, but I heard there's some confusion over your name." He says, "Just call me John."
And I said, "Okay, well, John, what's with this long German name?"
"Well that used to be my name but I changed my stage name from John Deutschendorf to John Denver because it just sounds a little hipper."
I thought, "Well that's very cool."
"So, what are you singing tonight?" he asked.
Well, this was either in 1968 or 1969, it was my senior year, I know that. But anyway, so I really knew a bunch of bulky standards, you know everyone wanted to learn such and such a song and sing it in harmony. The last song I was playing was a song that, although it was written, published and recorded in 1966, hadn't gotten much play until it was later picked up by Peter, Paul and Mary.
That song was "Leaving on a Jet Plane."
So we're chatting and everything, and I said, "I think I'll close with a song, I don't know if you've heard it or not, called 'Leaving on a Jet Plane.'"
He starts laughing and holding onto his stomach giggling because that's of course, his song. And he goes, "Oh, well, that's my song."
I said, "Oh, you were gonna do that song too?"
"No, I wrote it."
And I'm just sitting there. I feel like if I could have turned into a puddle and slid underneath the door, I would have. I wished I could just fall away.
I finally got my voice back and said, "I really am sorry. I didn't mean to step on your toes."
He goes, "Oh no no no, I was gonna use that as my final song. Why don't we do it together? Oh my god, I love to sing with other people and I love to sing my songs."
So, here we are, doing this song that we sang together in the dressing room, you know, two hours ago.
We're going to go and do this song in front of probably 50 to 100 people there.
So we sang the song and I thanked him and he thanked me. And he asked for my address, and so I gave him my address, and phone number (we didn't have email back then – the Internet had yet to be invented.)
When he and I said farewell and he said, "Maybe you can warm-up for me again."
I said, "Well, that'd be great. I'd love to do that." I kept waiting for that phone call, but it never came about.
By this time, it was late in my senior year of college and he was playing with a group called the Mitchell Trio. They originally had a guy named Chad Mitchell, but he had dropped out and it had stayed the Mitchell Trio. After trying out a few new lead singers, they got John Denver.
There was another little college, it was a twenty-minute drive or so from where I went to college and I had seen a notice that the Mitchell Trio with John Denver was performing.
Fantastic. I called the college and got tickets.
And a couple of us went down to watch the show. After the show was over I went around by the stage door and he came out and he looked at me and he goes, "Oh my gosh, I was supposed to call you, wasn't I?"
He remembered me, which was so nice and eventually he became a huge success.
---
Don't miss John Denver: Country Roads – Live in England
Monday, November 30 at 8:30pm on TPT 2.
© Twin Cities Public Television - 2020. All rights reserved.
Read Next