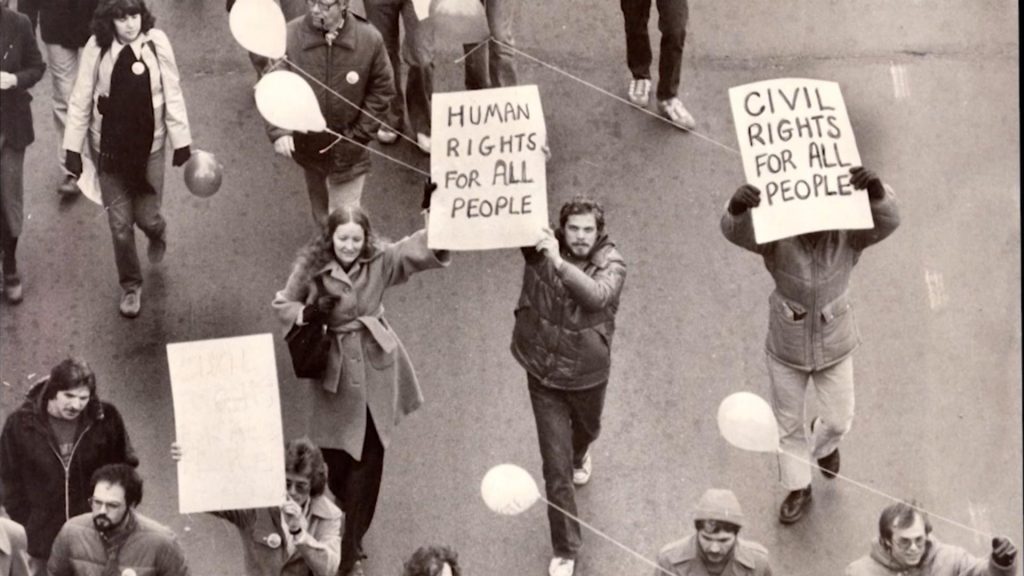 By Diana Fraser | Production Manager
When I reflect on how much Out North: MNLGBTQ History grew from pre-production to premiere, I think back to the two girls who ran to our Pride booth shouting, "We heard you're making a movie about us?!" The film ended up being both about and for those girls, their friends, and their mentors. It was a chance to tell the stories of the amazing LGBTQ+ leaders in Minnesota who paved the way. 
If you had asked me in 2010 if I thought I might be a part of a film like this I would have laughed. I had yet to come out and marriage equality was still a pipe dream — why would I expect to see the stories of my elders on television? Thankfully, the times a-changin'. And so, when we showed up at Pride to promote Out North, I couldn't help but cry. When other LGBTQ+ Minnesotans visited our booth and discovered Twin Cities PBS was making this film, they cried, too.
Excerpt from Out North: 
When I last saw Brian [Coyle] on Thursday he said, "Keep up the fight for justice." And I responded, "I need you to fight with me." And he said, "There are others." And I said "Who?" And he said, "They will come."  
– Mayor Sharon Sayles Belton at Brian Coyle's funeral service 
I am still overwhelmed by how much community support the project received. Out North was slated to be a 60-minute broadcast with five community events. By November 2017, we had produced a two-hour feature film and facilitated more than 45 community events. From Minneapolis to Duluth, people gathered to be together and learn about our state's LGBTQ+ history: in high schools, colleges, churches, retirement communities, PBS stations, and living rooms.
The most consistent feedback we received from Out North was "We want more!" So do I. I look back and feel so grateful to see LGBTQ+ storytelling becoming normalized — to see my LGBTQ+ sisters, brothers, non-binary siblings, and elders telling their life stories is a gift. As artist and activist Rosanna Hudgins said about the film, "There's more to this!" I can't wait to see my fellow media makers continue to produce inclusive storytelling that uplifts the voices of LGBTQ+ people across populations — be that people of color, emerging leaders, diverse faith groups, or hidden histories.
When we started making Out North it was 2016 and it felt revolutionary — there had never been a documentary solely about a state's LGBTQ+ history. A year after its release, we remain proud and grateful that its impact continues to be felt past the initial broadcast.
For TPT, the community connection across Out North exemplified our mission statement in action: We strive to enrich lives and strengthen our community through the power of media. On October 16, 2017, thousands of people joined us in person and on air for the premiere. It was a good day.
One year later, we set out to follow-up and measure the impact of Out North in numbers and words. This is what you had to say.
---
If your organization would like to be a funding partner in expanding this body of work, contact us. 
Watch the documentary, download the watch party toolkit, and learn more here. 
© Twin Cities Public Television - 2018. All rights reserved.
Read Next