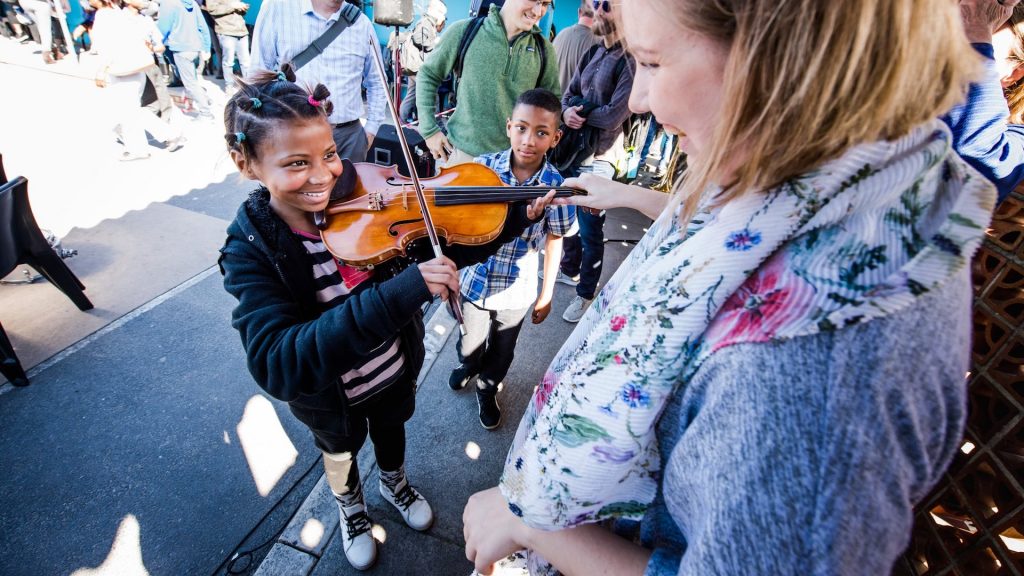 This one-hour Minnesota Original (MNO) special follows the Minnesota Orchestra on its historic tour through South Africa. The musical and cultural exchange honors the centenary year of Nelson Mandela's birth through community engagements and concerts. Many of the more than 300 Minnesotans who traveled to South Africa narrate the story along with students, audience members and leaders.
Watch 'Music for Mandela' Preview
TPT 2 Sunday, July 7, 9:30pm
LIFE Monday, July 8, 9:30pm

Music Director Osmo Vänskä led the Orchestra in performances in Cape Town, Durban, Pretoria, Johannesburg and Soweto, the township at the center of the anti-apartheid movement. It was Vänskä's vision to return to South Africa with the Minnesota Orchestra to engage with the South African National Youth Orchestra and other groups. The musicians visited schools, taught master classes and played together in side-by-side rehearsals in townships across the country.
The Orchestra collaborated with South African singers and other artists and were joined by members of the Minnesota Chorale, led by artistic director Kathy Saltzman Romey. The repertoire included Sibelius, Beethoven and a number of African pieces. A new work called "Harmonia Ubuntu" by South African composer Bongani Ndodana-Breen was commissioned by Classical Movements, the renowned tour company who coordinated the Orchestra's international initiative.
As the first major US orchestra to tour the continent, the Minnesota Orchestra received a heartfelt thank-you from Dr. Makaziwe Mandela, Nelson Mandela's eldest daughter. While criss-crossing South Africa, the musicians of the Minnesota Orchestra truly served as ambassadors in this unprecedented exchange of musical and cultural diplomacy.
We wish to express our gratitude to Jeanne Corwin, Elizabeth and Edwin Hlavka, the McVay Foundation, Elizabeth Myers, Louise Benz Plank, and John and Jennine Speier, who made this MNO special international production possible.
© Twin Cities Public Television - 2019. All rights reserved.
Read Next