Tony Scherber, who you might know as @TonzKitchen on social media, will be one of ten contestants to participate in PBS' newest show The Great American Recipe. A Minnesota-native and proud Korean-adoptee, we can't wait to see him represent our state on this new and exciting cooking show.
The show features host Alejandra Ramos and judges Leah Cohen, Tiffany Derry and Graham Elliot and highlights talented home cooks from across the country as they showcase signature dishes, share heartfelt stories and compete to win the national search for "The Great American Recipe."
The show premieres on TPT 2 at 8 pm on June 24 and will run for eight consecutive Fridays. You can also watch online or on your devices using the PBS Video App.
We sat down with Tony to talk about his time on the show, growing up as a Korean-adoptee in Minnesota and his love of cooking. Here's what Tony says:
---
Tell us a bit about your love of cooking and how that came about.
My love for cooking and exposure to Korean food came at a very early age. Both my brother and I are adopted from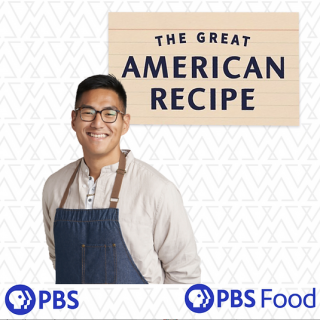 Korea (not blood-related) and my mom and dad wanted to make sure we celebrated our rich history and culture of South Korea. My mom used to whip out this little Korean cookbook a couple times a year but especially on one specific special day called our "arrival day," or the day we came to America. Since then, we have been exposed to our culture through food and it's expanded our views of how Korean culture is in America and across the globe. This food carries such unique stories and dishes that represent who we are. I started to test things in the kitchen as I got older. Mix together this. Cook that. Obviously not everything was a success, but it helped me get more confident in my cooking and helped me learn about myself.
I quickly realized that cooking will always have a special place in my heart and how I can connect with other people/share my story is through my food. Nothing else makes me happier than seeing people enjoy the food I made for them!
What inspires your recipe-creations?
There are some chefs, digital content creators, and others who I follow and I love their style of cooking and video work. They help inspire me to do more on my platform and try new things. Minneapolis/Minnesota chefs like Yia Vang (check out Relish!), Ann Ahmed, Ann Kim, and Christina Nguyen are several chefs who I love to support, spread the word, and indulge. They inspire me to help continue to share my story and food!
One of my biggest inspirations is Roy Choi – he helped introduce me to "Korean-fusion" food with his taco truck back in the day called "Kogi." His story, his food, and everything he has done for the communities he's tied to is a big reason why I love to do what I do.
Do you have a favorite dish?
To cook/make for others, I love to make my Korean tacos. Beef bulgogi with a vinegar slaw or Korean Chicken Gochujang chicken with kimchi. Kimchi Fried Rice and Mandoo are up there too.. of course, I always have to use my TonzKitchen Hot Chili Oil to help spice things up!
I love to go to support local restaurants and eat as much delicious food as I can. I would have to say Korean/Asian-influenced cuisine is where I gravitate the towards the most.
Where are your favorite places to shop for ingredients in the Twin Cities?
Farmers markets are my go-to for a lot of local, fresh ingredients. From the fresh produce to the choice of protein, they are my source for great ingredients and  I like to support local farmers and small business owners. I enjoy the Mill City Farmers Market especially with its great location and vendors!
I also love to go to Asian grocery markets/stores in the metro where I source a lot of my ingredients that you can't find in most grocery stores. These ingredients/items are usually less common in western diets/cooking, but I love to get all my specialty items, as well as more common ingredients like soy sauce, spices, and more from them.
What are you most excited for PBS viewers to see on the show?
I am really excited for everyone to hear our stories and our passion for cooking. We all have differences/beliefs/viewpoints, but we all find a mutual passion for sharing our story through food. I am hoping viewers can find some sort of connection, whether it is with me or any of our other amazing contestants. We all have such beautiful stories and backgrounds of food. I am so excited for everyone to tune in to see what we make!
Do you have any advice about how viewers can start experimenting with cooking new dishes at home?
I'd say just continue to practice in the kitchen! Whether it's your knife skills, time management skills with managing multiple cooking tasks, or just experimenting with different flavors, it's all about practice! I usually share everything that I make, so I am always looking for feedback, rather than always seeking praise. That will help you learn more and can help build confidence with your cooking as well.
---
Check out Tony's adventure on PBS' The Great American Recipe. Tune in this Friday or watch on the PBS Video App.
© Twin Cities Public Television - 2022. All rights reserved.
Read Next