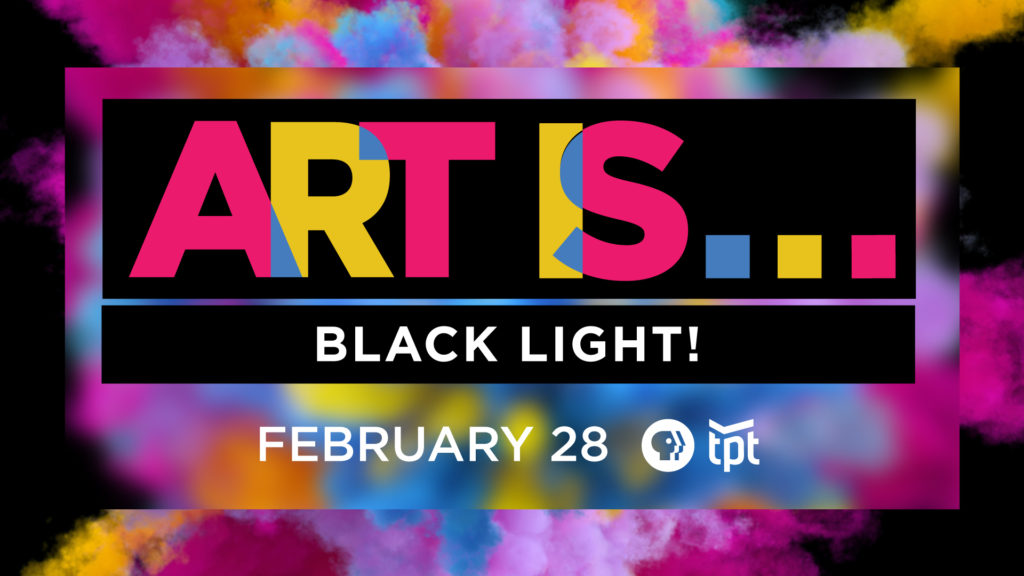 In collaboration with Twin Cities PBS, ART IS… is a series of four events in which exceptional artists from St. Paul curate the work of three emerging artists of their choice to create a unique, arts-centered experience before a live audience.
On Wednesday, February 28th, Twin Cities PBS is partnering with vocalist/interdisciplinary artist, PaviElle French, to showcase artists she loves and respects. We sat down with PaviElle to learn more about her, the artists that will be featured, and what to expect at the event, ART IS…Black Light!
---
Twin Cities PBS: Introduce yourself to us: Who you are and what you do! 
PaviElle French: I am PaviElle French. I am an interdisciplinary artist hailing from the Rondo Neighborhood in Saint Paul, MN. I have been an onstage performer my whole life. And, will continue to produce art, provoke thought and evoke change for the rest of my life.  
Twin Cities PBS: Introduce ART IS… Black Light! to us.
PF: ART IS… Black Light! Is a space where four artists come together in the tradition of Black art, womanhood and aesthetic, carrying the torch forward into the next generations to come.  
Twin Cities PBS: What will people witness when they come see this show?
PF: Honestly, I am not sure. And, that is the most beautiful part. All I know is that these women are amazingly talented and they possess the freedom to give us exactly what they want to share with us. I have all faith in the participating artists involved with this production. They are amazing and, I am excited to see what they create and how they bless us with their gifts. 
Twin Cities PBS: How did you come up with the title, theme and format for the event?
PF: It just came to me. I originally had thought to call it, "ART IS… Black Joy!" but, I wanted it more indicative of what I was overall trying to magnify…our light…love…resiliency. So, that was it. ART IS… Black Light! 
Twin Cities PBS: Briefly introduce each of the participating artists to us – Amani Ward, ShaVunda Brown and Yoni Light. Who they are and why you picked them to be part of this cohort?
PF: These three women I picked without any thought. I knew right off. They are the future. They are all different genres of art. They are all without a shadow of a doubt, artist who move me and make me feel my heart.
ShaVunda Brown 
PF: ShaVunda Brown is an artist I have always respected and I love her work in Khem Clan as well as, her stage performances.
---
Yoni Light
PF: Yoni Light was one of my dance students at the St. Paul Conservatory for Performing Arts. I believe she is unique beyond measure…a brilliant dancer with a brilliant mind.
---
Amani Ward
PF: Amani Ward is one of the most soulful vocalists I have ever heard. Honestly. The world needs to hear her. Simply.
Twin Cities PBS: What are you most excited for about the event?
PF: I am excited to put the show up on its feet as we have been building this for a while. I am very curious to see what everybody brings to the table. Overall, I am grateful for this experience to work with people I been wanting to work with. And, I am ecstatic that TPT is filming this for us as it will be a living testament within the generation of artists here in the Twin Cities. 
© Twin Cities Public Television - 2018. All rights reserved.
Read Next