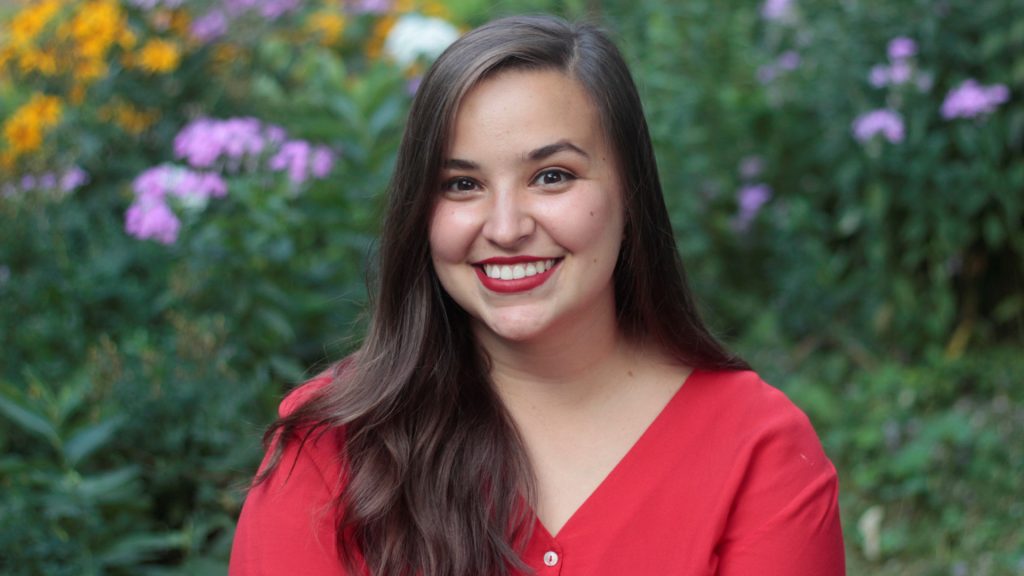 TPT's STAGE premiered earlier this summer with new episodes coming every Friday on TPT 2 or available to watch online at tpt.org or by using the PBS Video App.
We sat down with the host of the show, Natalia Romero Arbeláez. She is an experienced performer, educator, and musician originally from Colombia. She has passion, experience, and knowledge that makes each episode a celebration of the featured artists and venues. Natalia sings with ensembles such as Border CrosSing and the VocalEssence Ensemble Singers. We talked about her experience filming the show, working with artists and the power of public media.
---
The series covers a host of different local artists from folk to rock to choral music. Did you find any creative commonality between them?
One of the things that I really noticed about every artist is they were driven by a mission or a hope as an artist. For example, War Bonnet was all about showcasing Native American sounds, Nur-D was not only writing music that is optimistic and empowering, but also talking about all that has happened in Minneapolis this year, and the Twin Cities Gay Men's Chorus had this incredibly powerful piece of music, talking about the HIV and AIDS crisis, and the parallel to COVID. Every episode brought that in.
I think, as an artist, and also as an artist who stopped making music for two years, I just felt that every single person I talked to was just so grateful to be up there with an audience, making music playing live, feeling that energy – that was just so clear. With every one of the interviews, I loved getting to talk to composers, and artists about their process and being like, "Wow, that's crazy, tell me more."
We're all musicians… so we're all a little weird and we love this weird thing that we do by ourselves and with others. It was so beautiful to have these conversations with others.
Was there anything that surprised you about some of the artist's processes throughout the filming of STAGE?
This answer, to be honest, is that we all have different comfort levels with chatting with people. It was interesting. Sometimes I would go up and introduce myself and say, "Hey everybody, I'm your host", and we would just get to chatting and then the second the cameras went on and it was like, "Oh my god, people are filming this and watching this."
That was definitely one of the challenges I faced as a host, and I made it my mission to put them at ease. A lot of times we'd have such a cool conversation before we formally began. For example, Molly Maher and I had this 20-minute conversation, because there was a mic issue, about how we realized we both had this passion for this one style of music from this one region of Mexico and suddenly the filming started and I had to be like, "Hey, Molly, nice to meet you. Tell me about your music," when we'd already had this amazing conversation.
There was so much that happened behind the scenes in getting to talk to the artists as people that didn't make it on camera which was such a shame. I felt bad for the producers who had to decide how to make the best episode and pick from so much good content!
Do you have a moment that sticks out to you from behind-the-scenes?
Yeah, I think of two that immediately come to mind. One of them was with Robert Robinson from the American Roots episode at The Dakota. As we were setting up mics, he and I had quite a bit of time to chat. His interview was one of my favorites because he has this beautiful energy. He told me all about how he grew up singing in the church and how they would be at church on Saturdays and Sundays and then they'd be in school, they go back to church and, you know, just his experience.
As somebody who was not raised in the gospel tradition, it was really cool to hear somebody who has been around for a long time in the cities making that music and I think we both connected over how emotional it is to get in front of people again. As a singer myself, that was something I felt I lost for two years.
And then, I think in a similar fashion, the interview that hit me the hardest was the one with the singers from the Twin Cities Gay Men's Chorus. They spoke so passionately about the community of the Gay Men's Chorus. One of them mentioned he had been in the hospital, and for two months, every single day someone from the choir would come and check in on him. I had been in a car accident a couple of years ago and when I was in a wheelchair, every single day someone from my church choir would pick me up from school, and every other week, people would drop off meals and help me clean. I was so touched to hear his experience because a choir is such a special community.
I think that the innate human connection that we seek in community and music is so powerful. Hearing these men speak so openly about being diagnosed with HIV, and their experiences with grief and loss was really impactful. We had a script and we had things I wanted to ask them, but it was also a moment of like, wow, this is real humanity. These people are so vulnerable with me, a stranger, in front of cameras and with each other.
I also felt there was an added element of trust because we're all choir kids through and through.I just watched that episode again, a couple weeks ago, in preparation for writing curriculum for PBS Learning Media and I was really emotional. Hearing these guys talk about their experience and this brotherhood, that's what music is right? It's a family.
What do you hope people will take away from watching the show?
That there is so much good music in Minnesota and it happens every single night of the week. It happens in big cool places like the Palace, and it also happens in churches and at the Cedar and we have so many rich places for people to find music. I want people to be like, "This band is awesome. I'm gonna find them!"
I say to my students all the time when we do music by living composers "This person is alive and you can find them on Instagram!" And my kids are like, "Oh my God, what?!" I think the fact that these are people who are out there making music now is really exciting.
What I love about this project is that the interviews are so interesting. I feel that we don't really ever get a chance to hear about people's process, or about why performers make music. But I think the fact that every episode gives you a peek into each artist you hear on stage and what they love about what they do, or why they started, or what inspired them to write this music is really special.
There are so many points of entry for people to connect, you know, whether it's the music piece about living on the edge and having to grapple with that, or like a Black indie band or the final episode which features a really challenging piece about mental health in partnership with the Schubert Club (which is an incredible thing right here in our backyard that is free. You can go to the Shubert club for free!) I think that it's really cool that audiences get a chance to find themselves in the listening seat and get enjoyment from that.
Anything else you'd like to add?
I would just say that shows like this are possible through donations and through grants and funding. I work for a nonprofit and so I know the support of viewers and viewer feedback is really important, so if this is something that people like, or something that they would want to see more of, I would personally love to hear it.
I think it's worth saying that the fact that we have this kind of media here in Minnesota, and this beautiful community of philanthropy and art and music support is not something that we should take for granted. It's really cool that this program exists, and I hope that people will be proud of that. I know I'm proud of that.
—-
Check out weekly episodes from TPT's second season of STAGE.
© Twin Cities Public Television - 2022. All rights reserved.
Read Next