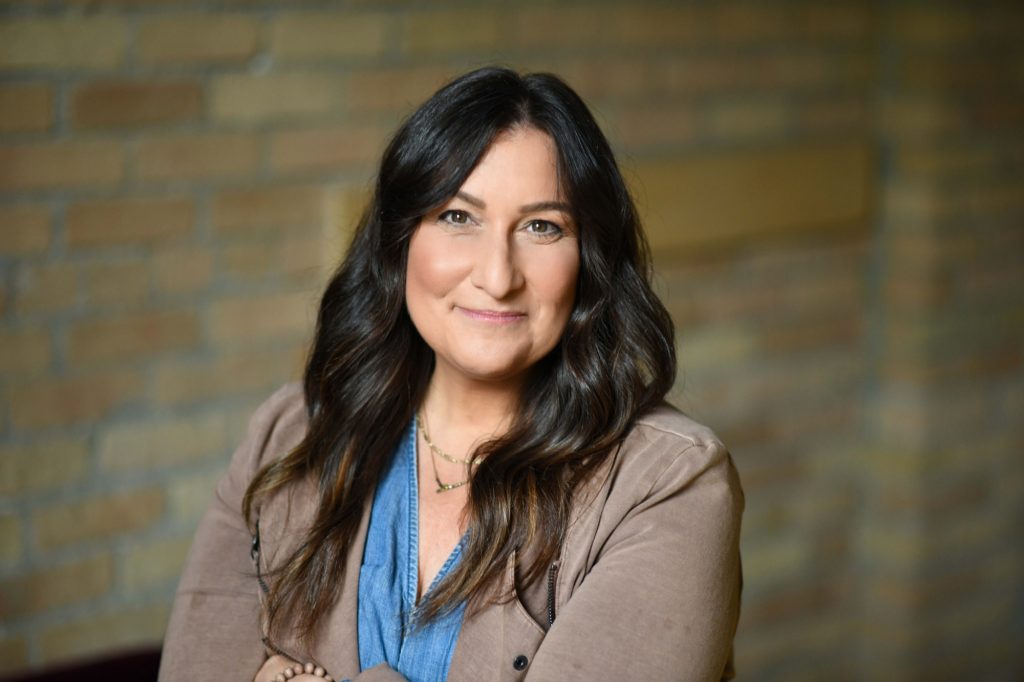 Lesley Goldman joined Twin Cities PBS (TPT) in May of 2022 as its new Chief Content Officer. She came to the role with two decades of executive level content experience across the media industry, giving her unique perspective as she takes on this role. In her career, Goldman has developed and produced productions for HBO, Nickelodeon and MTV, and served as Senior Vice President of Development & Original Programming for WarnerMedia's truTV. As the owner of Ladybug Films she consulted in all areas of multi-platform content development, creation, strategy, and distribution. We sat down with Lesley to learn more about her background and her thoughts on what is to come for TPT.
Can you tell us about what got you into media making?
I was always drawn to good storytelling. When I was younger, I was an avid reader. I loved the theater, tv and film. I loved to immerse myself into places and people different from me. As I got older, I became enamored with non-fiction storytelling. The power of real-life human stories was enormous. So, I went to journalism school at the University of Wisconsin. And during that time, I worked at the local PBS station in Madison for their version of Almanac.
When I graduated, I got a job at TPT working for Newton's Apple. And that changed my course. I saw that you could create entertainment that also educates and informs. I still loved journalism, but Newton's Apple showed me that media making could be creative, entertaining, and still make an impact. It felt groundbreaking. It allowed me see outside the box and think of storytelling in a new way. It expanded the boundaries of what I thought media was supposed to be.
How do you think your experience will shape your work at TPT?
I never followed a traditional trajectory in my career. This means I approach my roles with a truly unique perspective. In the last year before I took this position, I produced a feature documentary for HBO, Phoenix Rising, and built an entire digital content strategy for a nonprofit, the It Gets Better Project. I not only have extensive experience in the development and production of content, I look at how to reach the right people on the right platform at the right time. That is the foundation of every content strategy, and it will be for mine as well.
How people consume media is changing, and it is our job to make sure we are continuing to tell stories that resonate and reach the right audiences. The biggest asset I have is the team I get to work with. We have an incredibly talented group of content leaders and creators at TPT. It will be my job to empower and guide these leaders as we successfully navigate the new media landscape. I am already thrilled at the foundational effort we are putting in that will allow us to innovate and create multi-platform content in new and different ways.
What excites you about public media?
Public media's ability to educate, engage, and impact people's everyday lives is what excites me. Hands down. Public media is at an inflection point of meeting the needs of its current viewers but also building the needs of the next generation of viewers and community. That is an incredible opportunity and challenge.
Public media is a trusted entity, and that is an amazing place to start. But the world is changing very rapidly, and what folks need from public media is different from the traditional broadcast model, so building a multi-platform content strategy that meets the needs of our audiences and reaches them where they are, will be the biggest challenge we face. The good news is, I am excited by these challenges!
What excites you most about TPT? 
TPT's strategic goals are what inspires me the most. TPT is one of the top performing public television stations in the country. The fundraising, the educational programs, and its content are unparalleled. We are also ahead of the curve in the digital and social media space. From Next Avenue to our short form video content on YouTube and TikTok, TPT is an innovator for public television stations. We could stop and rest on our laurels, take a break, but that is not TPT's style.
TPT's strategic goals are ambitious and will require the entire organization to work together like they never have before. It is exciting and a huge challenge. One I embrace, but I don't take lightly. We need to continue to press forward with multi-platform efforts quickly and strategically.
We also have huge opportunities to expand on one of our strengths: telling stories that have not been told by storytellers and creators that have not always had access to tell them. TPT's strategic goals and content strategy will allow us to continue to emphasize telling stories from underrepresented voices from underserved communities.
As you look ahead, what do you see changing and what do you see staying the same when it comes to TPT's content? 
I have no doubt we will continue to create the impressive content TPT is known for. Just this morning I woke up to learn we were nominated for 14 Regional Emmys.
While we continue to produce new and returning programs, we'll simultaneously be working behind the scenes to develop processes to work more closely with the community to make sure our programming is meeting their needs. We want to make sure we are telling stories that capture important community conversations that are relevant to audiences now.
My role is to help elevate the great content while also exploring new platforms and new ways of storytelling. I will be looking at moving into emerging media while maintaining the integrity of programming that already exists. If we want to reach our strategic goals, we first need to be thoughtful about how we decide what content we creatively develop, where it will live, who we want to reach, and what outreach, engagement and curriculum will be built around it. This means every project will have many parts that need to work together.
What should viewers be excited about in the next year?
There is quite a bit to be excited about this coming year. We are building on the success of Jim Crow of the North with the release of a digital series that tells more stories of the roots of racial disparities in Minnesota. We will also be bringing back some of our digital favorites for new seasons, such as Outside Chance and Worn Within.
We will continue to provide amazing national educational kids programming with the release of new episodes of SciGirls and the beginning of production on our newest national kids' program, Mashopolis.
Season 2 of America Outdoors, which we are fundraising for right now, is another big thing for viewers to watch for. We will also soon be in production on six new original Minnesota Experience documentaries. These will launch an exciting new era for Minnesota Experience as we explore ways to share the series on new platforms. One of these documentaries will tell the story of Minnesota hockey legend Henry Boucha and how he reclaimed his pride for his Ojibwe culture.
Finally, as we look forward to the next few elections and the 250th anniversary of the Declaration of Independence, Almanac will continue to be Minnesota's go-to source for reasoned political information. We will also be producing more content that explores what citizenship means and helps spur civic conversations across Minnesota. Providing information and civic engagement has always been part of TPT's mission, but we are committed to increasing the presence of this content to help meet the civic needs of the community and contribute to a stronger democracy across Minnesota.
© Twin Cities Public Television - 2022. All rights reserved.
Read Next