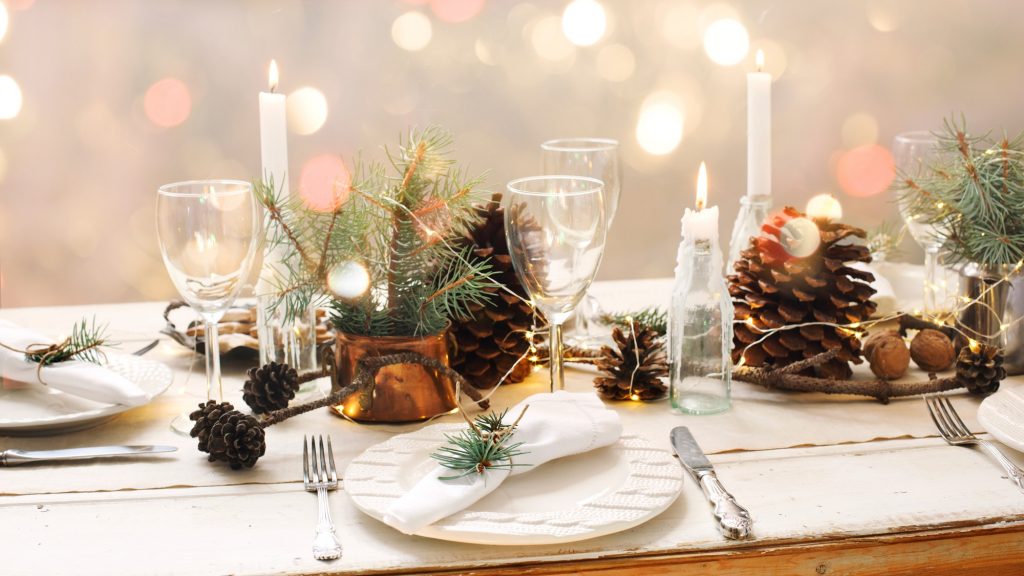 We hope you enjoy some favorite holiday recipes from staff at TPT.
Salads and Sides
Southern Collard Greens
From the kitchen of Lynn Farmer, Vice President of Marketing. Adapted from Celebrating Our Mothers' Kitchens, The National Council of Negro Women, Inc.
Ingredients
1.25 lbs turkey meat, 2 smoked turkey wings or one smoked turkey drumstick
2 quarts chicken broth (yes, broth with salt)
3 cloves of crushed garlic
1 large, chopped onion
2 seeded, chopped hot Chile peppers, like jalapeno
4lbs. greens, washed with stems removed, cut into pieces. Can use all collards or mixture of collards, turnip and mustard greens (my favorite).
Bring turkey, chicken broth, onion, peppers, and garlic, to boil in large pot. Reduce heat to low, cover and simmer for about 1.5 hours until tender. Add greens, return to boil. Simmer uncovered, about 45 minutes or until greens are tender. Remove turkey to cool. Remove turkey from bones and discard. Return turkey meat to pot. Serve with cornbread (sops up juice!).
Rotkol mit Apfel
From the kitchen of Melinda Hoke, Vice Preside of Philanthropy. This is a 5 generation German recipe lovingly adaptable. Translates to Sweet Red Cabbage w/Apples.
Ingredients
Fresh head of red cabbage, 2 lbs
1 cup red wine vinegar
1/2 cup brown sugar
1 medium onion, finely chopped
2 medium apples, peeled and cored. (I like granny smiths)
2 tsp salt, as needed
6 slices of bacon, cut into 1 inch strips
1 bay leaf
Possible additions: red wine and raisins or red currants
Place cabbage, briefly, in a bowl of cold water. Then remove and quarter it, removing all the white core, and slice into 1/8 inch strips, then the strips into the water. Put the bacon into a Dutch oven or large skillet (I prefer the oven) over low heat until fat is rendered. Add onion and cook until golden. Lift cabbage out of the water and add it to the pan. Add sugar, vinegar and salt. Briefly stir entire mixture. Peel and core apples, slice into matchsticks and add to pot. Cover pan and cook over medium-low heat for 1.5 hours, adding water as needed. During the cooking, sample and adjust flavors (sweetness, acidity/sourness, etc.) to taste. Remove bay leaf before serving. Consider a small amount of red wine, or raisins/currants (I like the currants) as your taste dictates.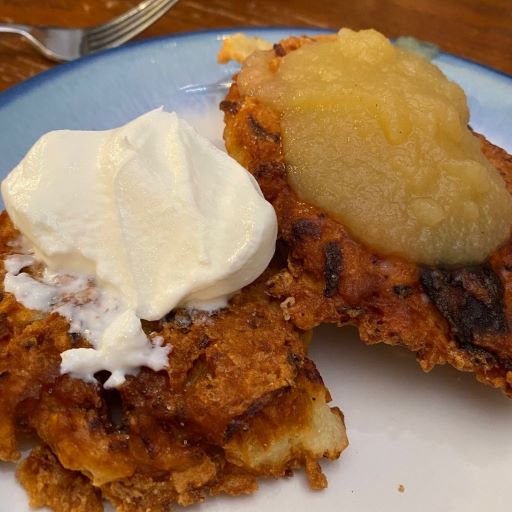 Latkes
From the kitchen of Jessica Prody, Director of Communications. My family blends our holiday traditions and celebrate Chismukkah (Christmas and Hanukkah) every year. Latkes are a holiday staple.
Ingredients
1 lb of russet potatoes
1 medium-to-large white onion
2 eggs
1/2 cup flour
½ Tbsp salt
Lot of vegetable oil for frying – peanut or canola is fine
Peel potatoes and shred. A food processor will make your life way easier if you have the grater attachment. Also shred onion (after peeling). Throw potatoes and onions in a bowl and squeeze the heck out of the mixture a handful at a time and transfer to dry bowl. In dry bowl, add in eggs, salt, and flour (for flour, use enough so the mixture is not super wet, but you don't want it to be dry like dough) and mix well by hand. Turn on your oven fan or open a window, you'll thank me later. In a large pan – skillets work great if you have one – pour in about ½ inch of oil, form your mixture into patties and place in once oil is hot. When you see the edges browning, flip. In total, each latke should take about 5 minutes, depending on how thick your patty is. When done, transfer on to (and this is VERY IMPORTANT—TRADITION!) a brown paper bag to drain the oil. Sprinkle salt on to taste and serve with apple sauce or sour cream. Eating latkes with either apple sauce or sour cream is totally acceptable, however, do not eat both on one latke because that'd be sacrilege. Your stove-top will be covered in grease and the house will smell but it'll all be worth it
Frozen Cranberry Salad 
From the kitchen of Sara Horishnyk, Senior Marketing and Communications Coordinator. This was a recipe handwritten by my grandmother.
Ingredients 
9 oz Cool Whip 
1 can crushed pineapple 
2 can whole cranberry sauce 
Put into a mold and freeze 
---
Main Course
Apple Stuffed Spiral Ham
From the kitchen of Cindy Papenheim, Senior Manager, Membership & Viewer Services. Developed at Cindy's apple orchard in Shoreview.
Ingredients
1 spiral-cut half ham (8-10 lbs)
2 apples, peeled, cored and cut in very thin slices
Glaze Ingredients
1 cup brown sugar
½ cup honey
1 Tbsp spicy brown or Dijon mustard
1 Tbsp rice vinegar or cider vinegar
1 Tbsp worcestershire sauce
Pre-heat oven to 325. Mix all glaze ingredients and set aside. Put enough water in the bottom of a rimmed baking sheet or a shallow roasting pan to just cover the bottom of the pan. Place a rack in pan (a cooling rack works great for this!) and place ham, flat side down, on rack. Place sliced apples in a microwave-safe bowl. Cover loosely and microwave for 2 minutes. Insert cooked apple slices in ham between spiral cuts, dispersing as evenly as possible (leave a quarter inch or so space between apples.) Cover ham with foil and place in the oven for 1 hour.
Remove foil and baste ham with about 1/3 of the glaze. Bake another 15 minutes. Glaze with another 3rd of the glaze. Bake another 15 minutes. Turn oven up to 500 degrees, baste with remaining glaze and cook another 10 minutes. Let rest for 10-15 minutes. Discard apple slices before cutting the ham. (The apples have imparted their flavor to the ham, so they won't have much flavor besides salt – you won't like them!)
---
Desserts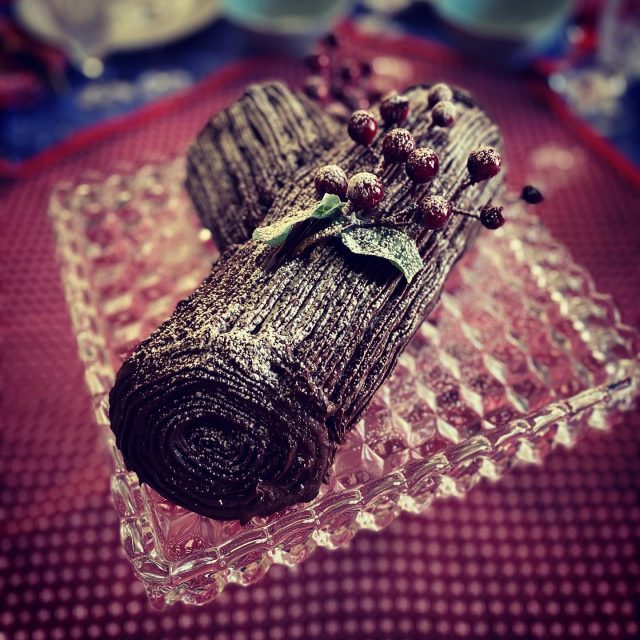 Mary Berry's Yule Log 
From the kitchen of Michael Brafford, Marketing Technology Specialist. I first tried this recipe in 2020 after watching the Great British Baking Christmas Master Class. It was pretty easy to make and turned out great!
The recipe is easy to follow and makes a beautiful centerpiece for the table.
Traditional Norwegian Krumkake
From the kitchen of Ashley Olson, Sponsorship Manager. Recipe provided by Ashley's great, great grandma, Lillian Hacklander—submarine riveter and fancy society lady—and transcribed by grandma Margaret Mcnea—nurse, business owner, and matriarch.
Notes
Krumkake are traditional Norwegian cookies rolled into a cone shape. For this recipe you can use a traditional Krumkake Iron (or Pizzelle Iron) and a Cone rolling pin, but if you don't have those you can use a nonstick pan (like a crepe) and a wooden spoon. If you go the nonstick pan route, you can use an embossing rolling pin to add decorations.
Ingredients
1 ½ cup sugar
2/3 cup butter
4 eggs
¾ cup whipping cream
¾ cup half and half
1 ½ cup flour
½ tsp vanilla
Optional other flavors: ¼ tsp Almond Extract, ¼ tsp Rose Syrup, 1 tsp cardamon
Batter Instructions
Cream butter and sugar using an electric mixer. Add eggs. Mix well. In saucepan, warm together: cream, half and half, vanilla, other flavors. Don't boil. Add cream mix, alternating with flour, to batter. Mix well. Chill in a metal bowl, covered, overnight.
Baking Instructions
Spoon about 1 tsp of batter onto heated iron. Close and squeeze handles together gently, heat for about 5-10 seconds and then flip and cook for 3-4 more seconds. Should be thin like a crepe, and lightly golden brown. Remove from heat and immediately roll into the shape you want. Can be flat, a cone shape, a cannoli shape, wrapped around a wooden spoon several times, or even stamped with a cookie press or molded in a small bundt. Cool seam side down on a wire rack. Store in a sealed container, 1-2 deep, for a week or less but don't freeze. Serve as-is, drizzled with chocolate, powdered sugar, or with cream and berries inside.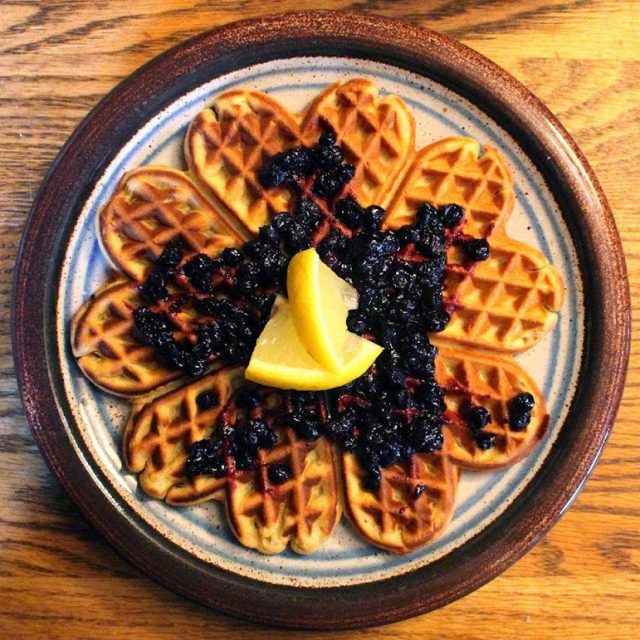 Skogfjorden Vafler (Waffles)
From the kitchen of Sydney Gisvold, Social Media & Content Coordinator TPT NOW.
Ingredients
5 eggs
¼ cup granulated white sugar
¼ cup brown sugar
1 cup sour cream
1 cup white flour
¼ cup melted butter
1 tsp powdered ginger
½ tsp ground cloves
1 tsp cardamom
1 tsp lemon juice
1 pinch salt
Mix ingredients together saving melted butter for last.  Stir butter in quickly as not to cook eggs. Prepare in a preheated heart-shaped vaflejern (waffle iron). Serve with your favorite toppings.  Some suggestions are: smør (butter), sukker (sugar), syltetøy (jam), brunost (brown cheese – a Norwegian staple), hvitost (white cheese), rømme (sour cream), bær (berries), and SJOKOLADE!!! (CHOCOLATE)
Ausuki
From the kitchen of John Kupris, Major Gifts Officer. This is my grandmother's recipe. Translates to "little ears," these are Lithuanian, donut-like cookies.
Ingredients
6 eggs – well beaten
¼ cup sugar
1 Tbsp shortening
1 tsp vanilla
½ tsp soda
dash of salt
enough flour to make stiff dough mix (about 2 ½ to 3 cups)
Roll out dough. Cut into diamond shapes with a hole in the middle. Twist one end of diamond through hole. Fry like donuts. Make sure both sides are fried (flip each Ausuki) as you fry at 365 degrees in two inches of shortening. Drain on paper towels.  Sprinkle with powdered sugar just before you serve them.
Italian Biscotti Cookies
From the kitchen of Steve Nardini, Senior System Administrator, IT. Biscotti are a traditional hard, Italian cookie. Dunk it in coffee or Chianti.
Wet Ingredients
4 eggs lightly beaten
1/4 lb butter melted
1 tsp vanilla flavoring
1 cup sugar
1/2 oz anise seed
1 tsp almond flavoring
1/2 cup slivered almonds
1/2 cup currants, cranberries, etc. (optional)
1/2 cup mini-chocolate chips (optional)
Dry Ingredients
3 cups flour
1 tsp salt
2 tsp baking powder
Mix all the wet ingredients together completely.  Add the ingredients slowly and mix thoroughly.  This mixture becomes very thick – it's good for your arms. After mixing, spread out on cookie sheet into a "loaf", about 1 to 1-1/2 inches thick, about 4 inches wide and about 12 inches long.  This quantity should form about 2 loaves.  Cook this load about 30 minutes at 350°, until the edges just start to brown.  Remove from oven and let cool at least 15 minutes. Slice the loaf as you would a loaf of bread, making cookies about 1/2" thick and 4 inches long. Lay the cookies flat on the cookie trays and return to 325° oven for an additional 10 minutes on each side.  Watch carefully, so they don't turn to brown.
© Twin Cities Public Television - 2022. All rights reserved.
Read Next