In honor of Earth Day, we're counting down the top ten episodes of fan-favorite Nature. The series is television's longest-running weekly natural history series, and has won more than 200 honors from the television industry, parent groups, the international wildlife film community and environmental organizations, including the only award ever given to a television program by the Sierra Club.
Enjoy the closer look into the world around us and check out the list below! Happy viewing!
---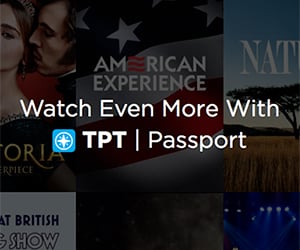 What is TPT Passport?
TPT Passport is a member benefit that gives you extended access to an on-demand streaming library of PBS and TPT shows, including full seasons of many favorites like
Downton Abbey
,
Atlantic Crossing
,
World on Fire
, and many, many more. Make a qualifying donation so you can start enjoying TPT Passport on your computer or with the
PBS Video App
on your favorite streaming device, mobile device or Samsung smart TV!
---
A story of surprise and revelation. A wildlife filmmaker spends his time during the coronavirus pandemic lockdown filming the bees in his urban garden and discovers the many diverse species and personalities that exist in this insect family.

Monkey see, monkey do. From baboons facing down leopards, to lemurs exploiting a jungle pharmacy or rhesus macaques charming their way to an easy life, discover the survival strategies used by primates, often in the most unexpected places.

A celebration of one of Earth's most iconic and beloved birds, featuring all 18 species of penguins for the first time, from New Zealand, Cape Town, the Galapagos Islands and Antarctica.

Discover the extraordinary abilities of squirrels, from the brainy fox squirrel, to the acrobatic gray squirrel, to the problem-solving ground squirrel. Follow a guide to the squirrel's success along with an orphan red squirrel called Billy.

The story of South Africa's sardine migration is brought vividly to life on camera. Each summer, the sardine run sees billions of sardines traveling up the coast, providing a feast for an array of marine predators.

A filmmaker investigates his traumatic encounter with a 30-ton humpback whale that breached and just missed landing on him while he was kayaking. What he discovers raises far bigger questions about humans' relationship with whales and their future.

American horses are icons. Mustang. Appaloosa. Morgan. Quarter Horse. Follow the history of the uniquely American horse breeds that helped shape our nation and meet the people who are continuing in the long tradition of caring for them.

Meet the people rescuing and caring for the animal survivors of Australia's devastating bushfires. Iconic species like koalas, kangaroos and wombats face a series of hurdles to recover from their trauma.

Unlock the mysteries of wild pandas whose counterparts in captivity are known for their gentle image. Journey through the steep Qinling Mountains with filmmakers, scientists and rangers to witness pandas' startling courtship and aggressive behaviors.

Follow the adventures of bears across the globe, from grizzlies to pandas to sloth bears, as they draw on their brains, brawn and unique adaptations to survive. Find out what it really takes to be a bear in today's ever-changing world.

© Twin Cities Public Television - 2022. All rights reserved.
Read Next