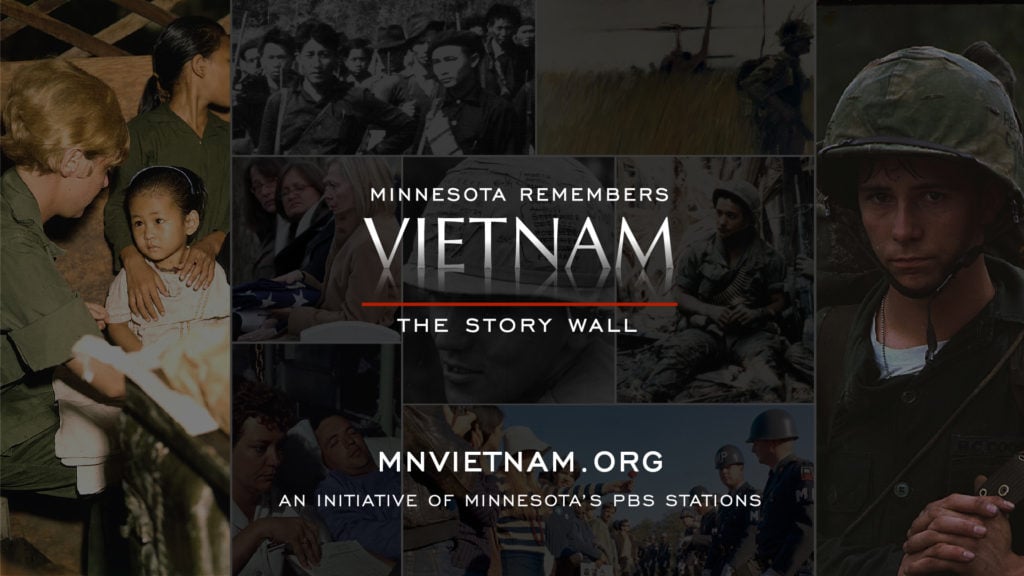 Veterans. Families. Protesters. Refugees. The Vietnam War left an indelible mark on millions of people. How has the Vietnam War impacted your life?
TPT and the PBS stations across Minnesota are seeking photos, video, audio and memories that will be displayed on an interactive Story Wall website, launching this Fall.
The Story Wall is a part of Minnesota Remembers Vietnam, a year-long, statewide initiative aimed at inspiring Minnesotans to remember and share stories, recognize bravery, express their reasons for dissent, and foster understanding around the lasting impact of war.
Ken Burns and Lynn Novick's major new documentary series, "The Vietnam War," is set to air on PBS stations this Fall. The 18-hour long film will be a national event that is certain to reopen discussion and debate about the costs of war and the experiences of those who serve.
Minnesota Remembers Vietnam will complement the PBS documentary with a rich collection of multimedia content for speaker, stage and screen.
The Vietnam War defined a generation. It changed the lives of people who fought in it and who fought against it. It's time to remember, honor, and understand.
Add your voice to the story at MNVietnam.org
Minnesota Remembers Vietnam is a Twin Cities PBS initiative in collaboration with the MN PBS stations.
MN PBS is made up of six independent organizations that provide television services to the residents of Minnesota.
KSMQ (Austin, MN)
Lakeland Public Television (Bemidji and Brainerd, MN)
Pioneer Public Television (Appleton, MN)
Prairie Public Television (Northwestern MN)
Twin Cities Public Television (Saint Paul & Minneapolis, MN)
WDSE • WRPT (Duluth & Hibbing, MN)
© Twin Cities Public Television - 2017. All rights reserved.
Read Next