Members of the team here at MN Original had the pleasure of attending the first-ever Superscript conference at the Walker Art Center on May 29 – 30. The two-day event brought together arts journalists, producers, organizations and supporters from around the country to discuss an array of topics relating to arts criticism and community in the digital age.
Speakers and panelists represented organizations from the LA Times, Pitchfork, Hyperallergic, Design Observer and many more.
We walked away with new ideas and perspectives that still have us thinking well over a week after the event concluded.
To recap our experience, here are six thoughts that stuck with from Superscript that we want to remember as we continue our work covering the Minnesota arts community on MN Original (trust us, our list is much longer than six items but, you know…brevity.)
ART IS FOR EVERYONE
"Art is a rich part of life, not just something for the rich." A profound statement from Culture High and Low writer Carolina Miranda and an idea we try to embrace here at MN Original.
When writing or covering art, it's important to remember to invite people in and not shut people out. One of our goals with MN Original is to make art accessible to viewers. Deep knowledge of or a background in the arts is not required to watch our program. We hope the stories we share broaden the scope of the public's perception and appreciation of the Minnesota arts community.
(Worth a read: Check out Carolina's entertaining coverage of Marina Abramovic And Jay Z's public scuffle here.)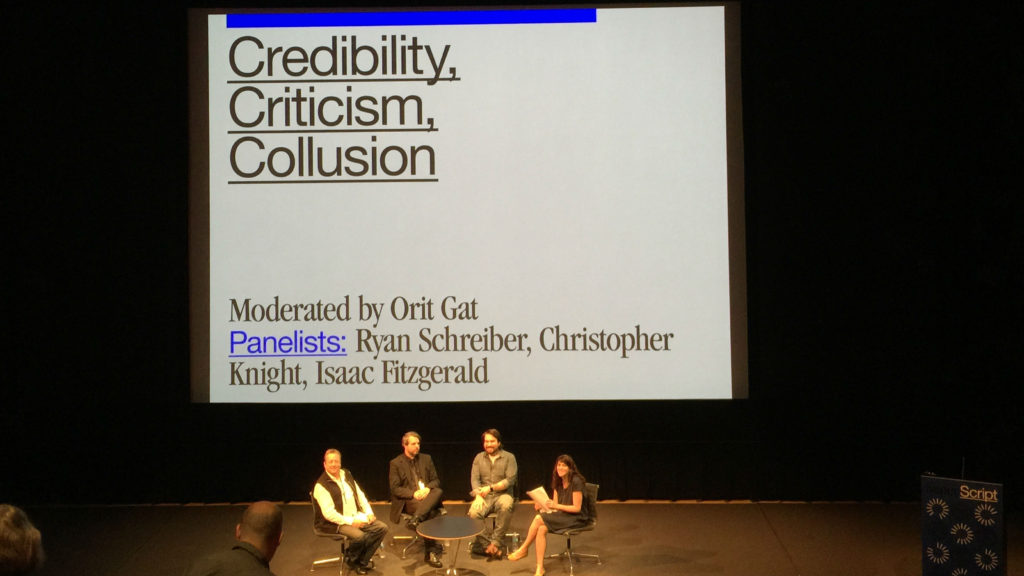 POSITIVITY AIN'T SO BAD
MN Original is in the business of sharing art rather than critiquing, which is why Isaac Fitzgerald of Buzzfeed Books' perspective is especially relatable.
Fitzgerald follows the (somewhat controversial) "Bambi Rule" for BuzzFeed Books, which essentially means he only writes positive reviews.
Many asked the question about whether this rule could assert authority or even credibility for his site. While there was much back and forth on the topic between panelists (and on Twitter), Fitzgerald commented that the curation of books he loves is a form of critique in an of itself.
"What I know is a love of books. I just stay in my lane." – Isaac Fitzgerald
ARTISTS AS FIRST RESPONDERS
In 2011, the Walker Art Center re-launched their programmatic and event driven website into a space that now engages the community, supports artistic expression and reflect's the institution's core mission.
Olga Viso, director of the Walker, explained that by inviting artists to contribute content, the site is now a source that provides alternative perspectives and criticism on challenging issues. The move to provide more editorial content is a reaction to the growing number of artists who are using their voices and mediums to respond to issues taking place around the world.
CAN WE DO BETTER THAN 'LIKES'?
As we're experiencing a time when the digital sharing culture is so strong, Ayesha Saddiqi of The New Inquiry questioned what the landscape will look like in years to come. Gaining likes and retweets is viewed as a prime social currency today for artists and journalists, but is there something we can do now to ensure a more sustainable method for measuring success online in the future? How can we build a more meaningful experience for our community? It's the responsibility of the online gatekeepers to sculpt what the art community could be down the line.
WILL WE EVER BUY ART ONLINE?
While there have been brands and companies that have attempted selling art online, a successful formula has yet to be discovered. New York-based writer Orit Gat commented that if there were a market for online art sales, Art Basil would have already figured it out. As the digital landscape for e-commerce evolves, it will be interesting to see if the art world finds a way to play in that space.
DON'T MISS NEW VIDEO EXHIBITS AT THE WALKER
The Walker did an awesome job integrating art (and not just talking about it) into Superscript. There were two screenings of new films commissioned by the Walker Art Center's Bentson Commission Series that premiered during the conference and will be available to view online for one month in June.
Friday's session debuted Moyra Davey's Notes on Blue (2015, 28 minutes) which paid homage to many subjects including Derek Jarman's Blue (1993) which was released just a few months before the filmmaker death and in some ways was a meditation on his illness.
Afterwards there was a discussion with Moyra who discussed similarities between her and Jarman, including how both had gone partially blind and the insight that struggle lent to each film.
Want More Superscript?
Head to the conference website, Facebook group or Twitter feed for more recaps, resources and video of the panel discussions.
Thank you to the Walker Art Center, MNArtists.org, Hyperallergic and the many other organizations and individuals who made Superscript happen! We're looking forward to the next one.
_______________
Blog post contributors include the following MN Original team members: Ashleigh V. Rowe – Senior Series Producer, Kate McDonald – Senior Associate Producer, Katie Schutrop – Arts and Music Engagement Specialist
Read Next