This month we're excited to feature a host of dramas and documentaries of international appeal! From Seville to Amsterdam, from our library to your screens, we hope you enjoy October's new shows on TPT Passport. Check out the list below of eleven shows new to watch in October. Watch online, or by using the PBS Video App.
---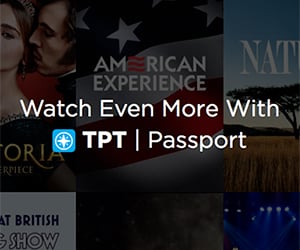 What is TPT Passport?
TPT Passport is a member benefit that gives you extended access to an on-demand streaming library of PBS and TPT shows, including full seasons of many favorites like
Downton Abbey
,
Atlantic Crossing
,
World on Fire
, and many, many more. Make a qualifying donation so you can start enjoying TPT Passport on your computer or with the
PBS Video App
on your favorite streaming device, mobile device or Samsung smart TV!
---
Drama
---

La Otra Mirada (A Different View)
Set in 1920s Seville, where Teresa, a woman with a mysterious past, flees to a young girls' academy with a secret goal related to the academy itself. This Spanish-language series portrays the journey of brave women finding their own voice.

Van der Valk
Dutch Detective Piet Van der Valk returns for a second season to tackle more of Amsterdam's most perplexing crimes. Van der Valk and his team are called in to investigate the grisly and theatrical murder of a lawyer. As a cryptic note discovered within her jacket alludes to further murders, they must now race to uncover the truth before the killer can strike again.
---
Documentary
---

The Boleyns: A Scandalous Family
Discover the scandalous rise and fall of the Boleyns in this epic three-part series. Get immersed in this story of love, betrayal, and obsession told from the unique perspective of the Boleyn family.

Ireland's Wild Coast
Follow the journey along one of the most spectacular coastlines in the world featuring the wildlife and wild places that make it so special. Wildlife cameraman Colin Stafford-Johnson takes viewers on an authored odyssey along Ireland's rugged Atlantic coast. Hanging like an emerald jewel off the western edge of Europe, Ireland has always been a place apart.

Miriam and Alan: Lost in Scotland
Miriam Margolyes and Alan Cumming get cozy traveling in a mobile home, mixing wit and memories as they return to their Scottish roots. Miriam and Alan: Lost in Scotland is part rediscovery, part revelation, and a total laugh riot, as the two beloved actors embark on a mission to uncover the country of their youth.

POV: Faya Dayi
Experience a hypnotic immersion in the world of Harar, Ethiopia, a place where one commodity – khat, a euphoria-inducing plant – holds sway over the rituals and rhythms of everyday life, Faya Dayi captures intimate moments in the lives of everyone from the harvesters of the crop to people lost in its narcotic haze to a desperate but determined younger generation searching for an escape from political strife.

Rise of the Bolsonaros
Since his landslide victory in 2018, Brazil's President Jair Bolsonaro has rarely been out of the headlines, with his controversial views on gender, indigenous rights and the Amazon. Yet, despite the increasingly vocal demands for his impeachment, Bolsonaro continues to have millions of supporters. This is the story of a remarkable rise from obscurity to the ultimate seat of power.

When Disaster Strikes
See the mechanics of disaster relief from the heroes responding on the ground. Government leaders, humanitarians and survivors tell their extraordinary personal stories of determination and hope.
---
Nature
---

NOVA: Eagle Power
Eagles dominate the skies. But what makes these predators so special? Researchers study one special bird—and stunning up-close footage reveals her exceptional strength, eyesight, and flying skills. With intimate access to a new bald eagle family, NOVA takes you into the nest to witness the drama of chicks struggling to survive.
---
COMING SOON
---

Miss Scarlet and the Duke
Eliza Scarlet is back in action and more determined than ever as the only female private detective in Victorian London! Season 2 premieres Sunday, October 16 at 8/7c.

Magpie Murders
Susan Ryeland sets out to find the missing final chapter of author Alan Conway's latest novel…and to solve his murder. Adapted from Anthony Horowitz's bestselling mystery by the author himself, the series premieres on Sunday, October 16 at 9/8c.

© Twin Cities Public Television - 2022. All rights reserved.
Read Next